WE ARE BACK!
2012-01-25
« Tillbaka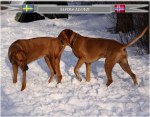 After a nice trip to Norway:) we are now back at home!
We have just gotten back from our trip to Norway, and Safir had two dates with Lloyd! they both were very much interested in each other. So we are now hoping that their dates will produce some wonderful results for us!
So now all we can do is wait and cross our fingers that we will have puppies in about nine weeks!
If you want to know more about the parents of this upcoming litter you can find it HERE.
If you have any questions or if you are interested in a puppy feel free to email me at info@ghali.se!
Safir´s sister Awena started her heat before chirstmas. And I knew it would not be long until Safir also will started her heat.So I don't´t really know exactly when Safir started.
But we went with Safir to the same veterinary that we always use and which we have recommended others to.Because she has been right each time.
We took a vaginalsmear and it looked great, it turned out that Safir was very clear.Safir has one heat every 6 months.
We took the vaginalsmear on Friday,and our vet thought it was time for a first mating on Sunday.
I´m so happy with how great she is:) always calm and trusting us that things are ok. We did not expect Safir to be ready for a mating already on Sunday but we of course wanted to let her meet Lloyd and see how they would act. And when I say that it was love at first sight I am not kidding!They got a long so well and really liked each other which was lovely for us to see.
As she saw him she just showed him her bum and moving her tail saying she was ready! and after some playing they were stuck together. They were both so good and calm when stuck together:) even though this was the first mating for Safir! And Lloyd´s second.
We got a hanging for 25 minutes:)
(We did not get any pictures from this first mating since we were not really prepared and it was also dark outside...)
Waking up on Monday morning rested and happy about the fact that Safir had been mated already!
So we started the day with a nice breakfast and a morning walk around the hotel while the sun rised. So nice!Norway is incredibly beautiful!!
It was obvious that they were very much interested in each other even this day!And within minutes they were once again stuck together on their second date! and this time for 14 minutes.
Safir acts like she has done this before:) They both acted so well and we are so happy that both their matings went so incredible smooth.
Lloyd was just as great as we had hoped for. An absolutely wonderful dog with excellent temperament, friendly and happy:)
Now we just have to wait and hope!
So fingers crossed for a lovely bunch of puppies in March!
We want to say thank you to Lloyd´s owner Eline for letting us use your special boy.