NEW UPDATES
2012-08-04
« Tillbaka
A greeting from AwenaxWilson son Xavi!
More pictures of Xavi in his own gallery HERE
I have also updated some more galleries, click on their name below to go to their own photopage here on our website.
A greeting from our Belgian boy Xavi!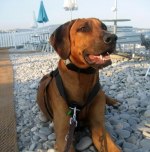 Vi är tillbaka i Belgien nu efter några härliga dagar i Nice. Kanske inte den mest hundvänliga staden ;) men med temperaturer kring 30grader blev den luftkonditionerade lägenheten den plats Xavi föredrog mest av allt... Efter kl. 21 gick vi dock ner till stranden så att han kunde springa av sig. Väl ute på promenad väckte han stor uppmärksamhet och stor beundran bland Nicebor och turister. Att åka hiss blev snabbt en favoritsysselsättning för Xavi, som i lugn och ro kunde hälsa och sniffa på andra "medpassagerare" iaf. de som vågade sig in... :)
Annars är Frankrike ett hundvänligt land på alla sätt, aldrig problem att boka hotell och alltid välkomna på restauranger iaf. på dem med uteservering om man inte ryms i en handväska ;). Xavi har blivit en riktigt världsvan Ridgeback med en hel del restaurangbesökbesök på Promenade des Anglais och i Champagneområdet:)
Men bäst av allt var att få komma hem och springa ut på fälten och den härliga skogen!! Alla gamla och nya dofter, springa på majsfälten och träffa sina kompisar...
Måna hälsningar,
Xavi&co