NEW UPDATES!
2013-08-28
« Tillbaka
On Saturday we came back home again after a week's vacation in Spain with our friends:)!
We had a really nice week in Spain with great weather, good food and very nice company.
But it's good to be back home again:)

I have updated Sevch Ghali Great Dream"Salma" photogallery here >>
Salma is from our D-litter, Asla x Minos
Scroll down for more updates!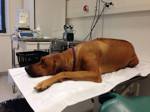 Ch Ghali Grand Cinamon"Vilho" is a blood donater:)
Vilho is from our C-litter, Awena x Lex
Mum Nina got a rush call last week from the animal hospital, not enough doners for the day. Time to donate some blood, said Vilho. A perfect patient, said the vet. Now he'll work with me for the rest of the day.
När man är med i en hundtävling är det för mig en uppvisning av vad man har lärt sig och sin hund...
I dag tävlade jag med Vilja för första gången. ...i fullständigt ösregn...
Det gick super dåligt ...hon kunde varken sitta , ligga och knappt gå i vatten pölarna...
Pinsam uppvisning....
Men lyckades få 10 poäng på tandvisning, 5 på linföring ,7 poäng på inkallning och hopp och på helhetsintrycket ,för att föraren hela tiden va glad och positiv !!!!
Vi blev absolut placerade sist av alla !!!
Dags att träna på att sitta , ligga i stället för att le.
"Vilja" Ghali Excellent Eureka is from our E-litter, Awena x Wilson