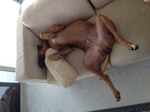 Some more photos has arrived! This time greetings from Xavi
(Ghali Excellent Redgent) from our E-litter (Awena x Wilson) who has settled in very well in his new country:)

Some words from his mum Anne, below!

A small greeting from us on the "other side" ;) Xavi feels great like never before; seems that he is made for this climate! On the other hand, he is the only one who can go "naked" ...

When others (mortals) are trying to find a place under a fan and have already showered 13 times today, goes the King of Singapore and settles on the only balcony with sun .... This is no spring sun, it´s tropical heat and clear blue sky ; feels like150 degrees .... Need I say that he is the one who has adapted best to the climate.
Xavi feel great:) Hugs!

Also a big thank you to Anton´s owner Karin for the lovely gifts you got me:) and for a very nice and long talk yesterday:)
Thank you all for keeping me informed:)!
Keep on sending me pictures. I like it:)!