NEW SWEDISH SHOWCHAMPION!
2014-07-08
« Tillbaka
Another succesful weekend for our handsome Finnish boy Vilho!
I received HAPPY NEWS from Nina, Vilho´s mum:)!
At the International Dogshow in Piteå, Sweden Awena´s son Vilho managed a CC win:)!
EXCELLENT 2, CQ (Championquality) BEST MALE 2, CAC, R-CACIB!!!
This makes him Swedish Champion!!!
Vilho is already an International Champion:) and his full name/titles are now...
INT CH, FI, S, EE, LT CH, S T CH Ghali Grand Cinamon "Vilho".
Huge Congrats Nina & Vilho
Vilho the Champ with his ribbons:)! Scroll down for more updates....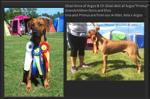 This weekend we also had a couple of grand- kids hitting the rings:)!
Seuch Dkuch Sevch Ghali Akili af Argos"Primus" grand kid Elvis
Ridgedogs in love with Elvis BOB (Best of Breed) at NKK Trondheim

Ghali Ainra af Argos grand kid Doris
Lionqueen La Diva BOB (Best of Breed) at the International Dogshow in Piteå
with CAC and CACIB!!!!
Huge congrats:))))
Primus and Inra are from our A-litter, Asla x Argos