MALMÖ INTERNATIONAL DOGSHOW!
2015-04-01
« Tillbaka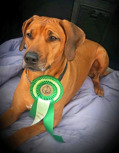 This weekend was the annual International Dog Show in Malmö!
At this show were only Awena x Wilson daughter Ghali Excellent Eureka"Vilja" present.
Vilja and mum Emma did a good job getting a first prize (Excellent)
and placed as 4th in Openclass! Congratulations:)!
Below you can see the judge comments. (Only in Swedish)

Vilja critique:
Snart 4 år. Korrekt typ. Mycket vackert huvud med feminint uttryck. Vackra ögon. Elegant hals och överlinje. Perfekt ridge. God benstomme och tassar. Mycket bra vinklad.
Utmärkt rörelse men kunde ha lite mer bak skjut.
Scroll down for more updates!!
SEUCH DKUCH SEVCH Ghali Akili af Argos "Primus" daughter Ready in Norway gave birth to 9 puppies ♥
7 males and 2 females, one male puppy had to be put asleep as he was too weak and did not gain weight.
There are now 8 Ridgedogs puppies born 23/3-15, and one or two males are still looking for the right home.
Are you interested in a Rhodesian Ridgeback puppy from Ridgedogs kennel in Norway?
Do not hesitate to contact breeder Ann Kristin, click here for more information >>