SEVCH GHALI EXCELLENT DRESDEN
2015-05-13
« Tillbaka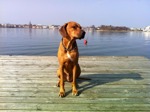 Pictured below lovely Awena x Wilson son Houdini. born in our E-litter:)!
Tomorrow we will have a dear visit, Safir x Lloyd son Texas will come for a playdate with his sister Tolouse.
It was a long time since we last met . so I look forward to tomorrow:)

I have also received many lovely new pictures of Asla x Minos son Chimme:)
They will come up here on the website soon.