INTERNATIONAL DOGSHOW IN HÄSSLEHOLM!
2015-05-19
« Tillbaka
This weekend was the annual International Dog Show in Hässleholm!
At this show were only Awena x Wilson daughter beautiful
Ghali Excellent Eureka"Vilja" present.
Vilja and mum Emma did a good job again getting a first prize (Excellent)
and placed as 3rd Best bitch in Openclass! Congratulations:)!
Below you can see the judge comments. (Only in Swedish)

Vilja critique:
Vackert huvud, Bra ögon och öronhållning
Bra nacke, utmärkt förbröst. Bra topline och rygg. Bra svans sättning. Rör sig fint.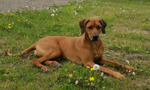 I want to make all our puppy buyers to pay attention! All the pictures and results updated here on our website are from updates that I receive. If I do not get pictures or information about your activities I can not do any updates on my website. Sorry, but I have unfortunately no possibility to keep me informed when it comes to all our dogs in our breeding and their activities.

So please do you have any funny or beautiful pictures of your sweethearts, or if you have something fun to tell:)
please just send me an email or sms. Always makes me very happy:)