PLAYTIME MOTHER & DAUGHTER! 
2016-06-14
« Tillbaka
I have updated the photo gallery in 2016 with some play pictures of mother and daughter.
SEVCH Ghali Golden Blue Bell " Safire " she was born in our B - litter, Asla x Luku and she is mother to our youngster " Toulouse " Ghali For I`M Farika born in our F- litter , Safir x Lloyd
Click HERE if you want to see the playdate pictures.

Scroll down for more updates
*********************************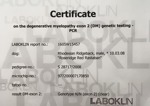 Daddy to our E-litter, Multichampion Roseridge Red Rastaban "Wilson"
Tested for DM (DegenerativeMyelopathy) Wilson's DM results came back a couple of weeks ago! N/N Clear!
Huge congrats to all involved:)

For those of you who do not know ,
The neurological disease known as Degenerative Myelopathy originally appeared in German shepherds. Commonly called DM, this degenerative spinal cord disorder has been found in several other breeds, including the Rhodesian Ridgeback. Because genetic testing is now available, diligent breeders can help remove DM from the Rhodesian Ridgeback gene pool.