GREETINGS FROM AWENA`S SON XAVI!
2017-08-29
« Tillbaka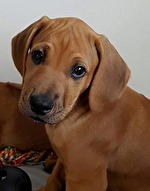 Who has been in Sweden all summer and still are a few weeks more, before traveling back to Barcelona.
Xavi have had his best summer for a long time :) With his own farm, rabbits near the house and pleasant warmth:)

We have visited one of the males from our A-litter Ch Ghali Atif af Argos" Hannibal" who lives in Norway with his family. It was a dear meeting, since I have not meet him in 7 years. Amazing Norway, so beautiful. Thinking strongly about moving! I hope I got some nice pictures on Hannibal and his son Conan, if so, they will be coming up here soon.
And then Caspian's great grandchildren have begun moving to their new families, and this little sweetie stays in the pack.. Good luck to everyone!