Ridgedogs Madewithlove Mazhar!
2017-10-09
« Tillbaka
MAZHAR NR: 3 AT THE RHODESIAN RIDGEBACK Versatility LIST!
Ridgedogs Madewithlove Mazhar placed as number: 3
at the Rhodesian Ridgeback Versatility list (allsidighetslista)

To compete for the club's most versatile dog from year to year, you must have started in at least 2 branches in the current year. You compete with the best results from each branch. if there are several dogs that has started in as many branches, the sum of the best results from each branch.
Winner is the dog who has started in most branches.
Huge congratulations to you both:)!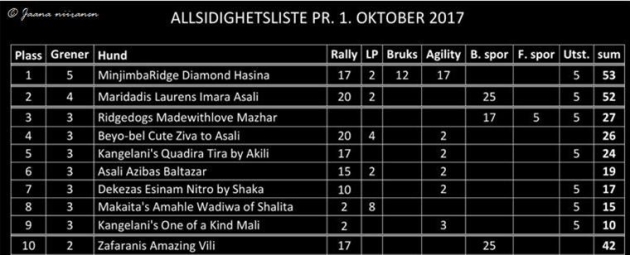 Sire: CH Makao Line Atuin ART
(e: CH Makao Ngumo Namdi x Ursula Grand)
Dame: CH Ridgedogs Delicious Ready
(e: SEUCH DKUCH SEVCH GHALI AKILI AF ARGOS & CHANJAMAA ASADI AISHA)
Born: 24.05.2016