AWENA`S LOVELY GRANDDAUGHTER DIOR
2018-02-17
« Tillbaka
This lovely girl on the picture below is Awena´s granddaughter Dior.
C.I.B NORDUCH NUCH SEUCH DKUCH SEVCH KBHV-09 Ghali Awena af Argos CV
Mother is Awena´s daughter, Ghali Excellent Misty"Esther" born in our E-litter Awena ♥ Wilson
More pictures of Dior in her gallery here >>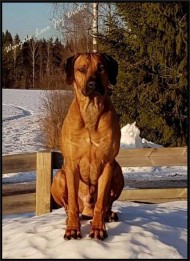 Some words from Dior´s owners & breeders.
Our breakthrough Queen Dior ♥ (in our family anyway)
This beautiful girl, Wenzake Love Joy Dior (Kandy ❤️ Esther) is a smart girl who has learned to open doors. It does not matter if it's the door that the handle is pushed down or the balcony door that the handle is pushed upwards to get out. If she takes the balcony door she jumps over the fence 1.20 high, to get along on walk number 2,even if she just got in from her 1 hour walk in the woods over mountains and rocks.But you can only be happy when the little heart suddenly pops up like a lark to keep up on another trip ❤️ It's all about locking all the doors!