LEO BOB JUNIOR BOS WITH CAC!
2019-03-03
« Tillbaka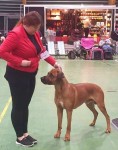 At the National Dogshow at Letohallen yesterday.
Ch Ghali Akili af Argos"Primus" great grandson Ridgedogs PowerOfLove Leo (Noah&Daia)
BOB Junior & BOS with CAC at his first adult show only 10 months old:)
Primus grandson Ridgedogs MadeWithLove Nestor (Atuin&Ready) Adele´s litter brother 2nd Best male:)
All with lovely critiques. For judge Zafra Sirik.
Congratulations!!!