PLANNED MATING BETWEEN AWENA & WILSON IN FEBRUARY 2011!
AWENA & WILSON WAS MATED 9-10 FEBRUARY!
THE PUPPIES WAS BORN 11/4-2011, 6 BOYS & 6 GIRLS.
The puppies will be ready to move to their new families in week 22/23!
Are you interested in a puppy from Awena & Wilson, please contact me at: 0708396182 or info@ghali.se
We are happy to introduce our upcoming litter between Awena and Wilson. Awena will hopefully be mated in the beginning of February and our puppies will be ready for delivery in the beginning of June 2011!
This will be Awenas second litter, her first litter was born in November 2008. More information about her litter you can find here.
Awena has a soft and gentle personality. She is a very well constructed and balanced girl with an excellent topline.
She has had a great show career with great achivements. At almost every show she attended she was placed in best bitch and awarded champion quality, and finished her Swedish champion title at the age of 2 years and 1 months.
Awena and her siblings (Ghalis A-litter) are all X-rayed with hips A and elbows 0/0. They are very prominent and succesful in the showring and five of them are both Show Champions and Fieldtracking Champions.
More information about Awena and her siblings you can find here.
More information and pictures of Awena you can find here. Flashgallery here.
Johannas words about Wilson
Wilson is a very nice built ridgeback who has had great results in the showring and became Swedish show champion at the age of 2 years and 2 months and is for now Swedens most top winning ridgeback in 2010. And he has gained the title Swedish Winner 2010.
He is a very good tracking dog and took the title Swedish field/bloodtracking champion easily winning 3 first prices in a row before the age of 14 months. He is now practising field/peopletracking and he likes it a lot and does a great job.
He is great at agility and he loves the balance obstacles and the tunnels. He is not the easiest dog to train obedience with because he get bored and loses his focus after a while but if you let him run over some agility obstacles he get the energy back and can focus again!
He is a very playful dog and loves to run in the woods with other dogs. Since he loves to run fast he has shown that lure coursing is one of his favorite things which he has tried a couple of times.
But he doesn´t have a huge hunting instinct and can be free in the woods without running off after rabbits or other animals.
He is a very calm boy at home and loves to cuddle in the sofa being a true lap dog. He isn´t aware of his size...
He is great in new environments and takes everything with ease and doesn´t get stressed over crowded places.
He is a little reserved with some people that he doesn´t know and wants to check them out before he lets them pet and cuddle with him but people he knows gets a lot of love and attention from him.
NORDCH SECH DKCH FINCH LTCH LVCH SEVCH SEV-10 ROSERIDGE RED RASTABAN " WILSON"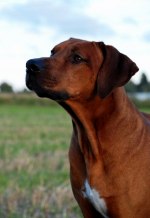 We look forward to our trip to the Royal Capital in the beginning of February!
Our hope is that Awena and Wilson will complement each other in a good way.
And not only give excellent famliy members, but also beautiful and sound ridgebacks
We hope that the puppies will inherit the benefits from both parents, with an easy-going temperament and very sound confirmation with good movements.
Many thanks to Wilsons breeder Sonja Nilsson Roseridge Kennel and owner Johanna Fürst for letting us use Wilson.
We are looking for puppy buyers who have the time and commitment to their new family member.
Our big hobby is exhibitions and field/bloodtracking, but we do not require that our puppy buyers will share the same hobbies.
The most important thing for us is that the decision to get a Ridgeback is well conceived and that you have the time for a little puppy.
Our primary goal is to breed healthy, friendly and outgoing pups, that will make excellent family members.
Warmly welcome to contact us, if you are interested in a puppy from this combination. You're also more than welcome to join us and our dogs for a walk. We live in Malmö / Limhamn, about five minutes from the Öresundbridge.
Helene Jönsson; 040-161027/0708396182 or info@ghali.se
MORE INFORMATION FOR OUR PUPPYBUYERS HERE