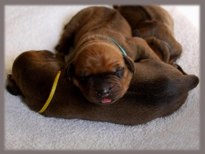 Ingen kull planeras för närvarande.
Är du intresserad av en valp från oss är du varmt välkommen att höra av dig!
Helené 0708396182 eller e-mail: ulf@timezynk.com

No litterplanes at the moment. As soon as we have more info about our puppyplanes for the future we will update on this website!
LITTERPLANS FROM OUR RELATIVES IN 2018!
PLANNED LITTER JANUARY 2018!
PUPPY GALLERY
KLICKA PÅ BILDERNA FÖR STÖRRE STORLEK, CLICK THUMBNAIL TO VIEW A LARGER VERSION OF THE IMAGE
All pictures © Ridgedogs Kennel

PUPPIES DUE AT THE END OF APRIL! TWO WEEKS LEFT BEFORE THE PUPPIES ARE HERE!
15/4 Daia with her big growing belly on day 47 in her pregnancy.!


Asla x Argos son Ch Ghali Akili af Argos"Primus" granddaughter ♥ Ch Ridgedogs Love at First Sight"Daia" ♥
will have her first litter with Saimons Pride Never Give Up"Noah"
For more information about this upcoming litter, contact Ann Kristin Ridgedogs kennel
All pic © Ridgedogs Kennel
22/3
Daia is in whelp:) the ultrasound confirmed that Daia has puppies in her stomach:)!
If everything goes as normal,the puppies are expected at the end of April, with delivery about 18th June!

Asla x Argos son Ch Ghali Akili af Argos"Primus" granddaughter ♥ Ch Ridgedogs Love at First Sight"Daia" ♥
will have her first litter with Saimons Pride Never Give Up"Noah" in 2018.
For more information about this upcoming litter, contact Ann Kristin Ridgedogs kennel
All pic © Ridgedogs Kennel



Sucessfull mating between Daia ♥ Noah
Hopefully more relatives on it´s way!
Ch Ghali Akili af Argos"Primus" lovely granddaughter Ch Ridgedogs Love at First Sight"Daia"
Has been mated with lovely Saimons Pride Never Give Up"Noah"
They have had their date, and it was love at first sight.
Puppies expected in the end of april/beginning of may ♥
Contact Ridgedogs Kennel for more information:)
UPCOMING LITTER IN 2018 DAIA ♥ NOAH
Asla x Argos son Ch Ghali Akili af Argos"Primus" granddaughter ♥ Ch Ridgedogs Love at First Sight"Daia" ♥
will have her first litter with Saimons Pride Never Give Up"Noah" in 2018. Some pictures of the Sire below.
More pictrues of the mother to be Daia here >>
For more information about this upcoming litter, contact Ann Kristin Ridgedogs kennel
All pic © Ridgedogs Kennel